WEEKLY VISITS FROM COFFEE ANGEL HELP EASE CANCER PATIENTS' PAIN
It started with one cup of coffee...
Dan Dewey's dad, Edgar Dewey, sat in a chair with tubes pumping chemotherapy into his veins in the cancer treatment center of St. Joseph Mercy Oakland hospital in Pontiac.
His son was with him. As always.
But one Thursday morning in 2007, he told his son he'd like a cup of coffee. Before Dan Dewey left for the Starbucks down the street, they asked other patients in the room whether they'd like a cup, too.
"He's treating. I've got his wallet, and the nurse is holding him down," Dewey recalled saying at the time.
One cup became several. And now, Dewey's weekly order consists of 20 or more drinks, depending on how many patients are at the cancer center when he arrives.
He is there every Thursday morning, even though his dad died in 2008.
"We love Dan," said oncology nurse and unit manager Kathy Courtney. "He's here rain or shine; blizzard or tornado. No matter what's going on out there, we know at 10 o'clock, he's going to be here. We have some patients who schedule their treatments when they know he's going to be here."
And it's not just the java that has the staff and patients looking forward to his visits. It's Dewey, the Orion Township man who jokes with the patients and their caregivers and teases the staff. "
He just lights up the room," Courtney said. "He's an inspiration to all of us."
Getting free cups of Starbucks coffee on Thursdays from Dan Dewey is a bright spot for cancer patients at St. Joseph Mercy Oakland hospital in Pontiac. Mechelle Burdette, left, says, "It's so special, it brings tears to your eyes.
Dad's spirit lives on with Dan's Coffee Run:
At 10 a.m. every Thursday — the same day he usually took his dad for chemotherapy treatment — Dan Dewey is at the cancer unit of St. Joseph Mercy Oakland hospital in Pontiac, taking coffee orders.
By about 10:30 a.m., he's at the Starbucks down the street.
Everyone knows to expect him: the staff and patients at the hospital, as well as the folks at Starbucks, where workers have come to fill Dewey's orders so efficiently, they rarely get complaints from customers anymore.
But every now and then, someone wonders why that guy in white shorts and a gray sweatshirt is holding up the line buying so many cups of lattes, cappuccinos, espressos, strawberry smoothies, and, oh yeah, somebody wanted hot chocolate.
But the regulars know.
And when the complainers find out, well, they fall silent. And some of them put money down to help cover the costs.
Dewey buys the coffee for cancer patients every Thursday because his dad, Edgar Dewey, told him to.
Dan Dewey started his weekly runs when his dad was a patient in the center in 2007. And he continues even though his dad died at age 87 in 2008.
His dad had cancer, but the cancer didn't kill him. He conquered cancer twice. Dewey swears he died of a broken heart, just a few months after the passing of his wife of 62 years, Mary Jane Dandison Dewey. He simply lost the will to fight a third bout with cancer after his high school sweetheart died.
But the sweet essence of his heart lives on in Dan's Coffee Run.
Dan Dewey, 65, a retired educational broadcasting operator for Birmingham Public Schools, used to pay for the drinks — averaging about $50 a trip — out of his own pocket before a Starbucks staffer stepped in.
One of the baristas, Valerie Edgington, 46, of Waterford, decided last year to create a special debit-like card through which people can donate money for coffee runs.
People can put money on the card in person at the Starbucks on Woodward at Square Lake Road in Bloomfield Hills or by visiting Dan's site online:
www.DansCoffeeRun.net
. Valerie also made T-shirts that sell for $20 and stickers ($5) to help spread the word and encourage contributions.
"He never asked for anything special," Edgington said. "He just came in every Thursday ordering all these different drinks. Finally, I asked him what he was doing, and I wanted to help."
Now there's usually enough money on the card to cover the costs, but when there isn't, Dewey goes back into his own pockets.
He has to.
See, when his dad was dying, he told him to keep getting drinks for the chemo patients. The coffee warmed his body and his soul.
He wanted that for others.
So does his son.
The doctors and nurses say there may be something therapeutic about Dewey's visits.
"It's definitely a mood-lifter, and a positive attitude is beneficial for any patient going through cancer treatment," said Kathy Courtney, oncology nurse and unit manager.
Oncologist Rajan Krishnan, the doctor who treated Dewey's dad, said the visits remind him of times gone by in his native India, when people stopped by simply to share a cup of tea or coffee. Doing so showed people they mattered.
Krishnan's mom in India misses those days; she recently lamented their loss in a telephone conversation with her doctor-son.
"She said no one just stops by to drink tea. They stop by to get my blood pressure, to check the electricity meter. But no one just stops by to share a cup of tea or coffee," he recalled her saying. "Sharing a beverage is a way to say I care about you. And that's what Dan's visit reminds me of."
Back at the hospital, Mechelle Burdette, 45, of Eastpointe savors her hazelnut cappuccino. "This is so sweet," she says of Dewey bringing coffee to her and other cancer patients. She says the kindness warms her heart and gives her strength.
Patients such as Mechelle Burdette, 45, of Eastpointe appreciate that.
Burdette was at the center on a recent Thursday with her aunt, Sharon Ralston, 68, who was in from Palm Coast, Fla., helping to care for her. She has Stage 4 cancer — five brain tumors and a spot on her lung. She was diagnosed in July.
Burdette had ordered a hazelnut cappuccino; her aunt ordered a plain latte.
"It's my favorite drink," Burdette said. "I love it."
"It's so special it brings tears to your eyes," Burdette said of the coffee visits. "This is so sweet. It really picks you up. It gives you to the strength to make it through, just knowing the kind of people who are out there. It warms your heart."
Her aunt, a cancer survivor, said she offered to tip or pay Dewey, but he refused. "He said, 'Oh no. No money touches my hands.' I don't think he's a man. I think he's an angel."
Sharon Donley, 68, of Port Huron was at the center getting treatment for a recurrence of ovarian cancer. She remembers Dewey from when she was treated in the past and was pleased to see he's still making his weekly rounds at the unit. She ordered a plain decaf latte.
"He just brings a smile to your face," Donley said. "It's such a wonderful thing to do for the patients. He brings you coffee, and he makes you laugh. It's such a wonderful thing to know that there's someone who doesn't even know you who cares. It makes a difference because when you're here, you're always a little nervous. And then you have this pleasant familiar experience."
Dewey said bringing coffee isn't just about honoring his dad's wishes. It makes him feel good, too.
"If anyone doubts why anybody would do something like this, all you have to do is see these people smile," he said.
Besides, what else would he do with his time and money?
"I don't smoke or drink or gamble," said Dewey, who is single and has no children. "All I do is run marathons and this." He ran his 27th marathon last month when he did the Detroit Free Press/Talmer Bank Marathon.
Earlier this year, he also added making periodic trips to Beaumont Hospital's Rose Cancer Center in Royal Oak because a patient there heard of his visits to St. Joseph and asked him to visit there, too.
Why Starbucks?
"Well, the whole point of Starbucks is that it is special. I could get coffee any place, even out of the machines. But when you're stuck in a chair getting chemo, it's not fun. I want to add a little — what's the word? — panache. It's not just, 'Here's the coffee.' It's a little bit extra. The whole idea is to make them feel special. "
And that he does.
REPRINTED FROM:
WWW.USATODAY.COM
"Beautiful & Bald Barbie" Facebook Phenomenon Teams up with 11-year old YouTube Singer to "Change This World" for Young Girls Fighting Cancer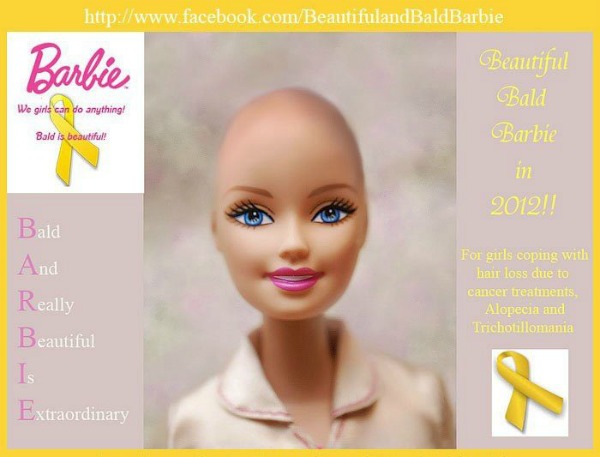 LOS ANGELES
— When 11-year old, singer and songwriter

Miranda Finn

wrote a song and posted a video on YouTube, she had no idea her song,
"Maybe I Can Change this World,"
was so aptly named. Four days later,

Jane Bingham

, the woman leading the Facebook charge for Mattel to produce a "Beautiful and Bald" Barbie with a bald head in support of pediatric cancer patients suffering from hair loss, contacted Miranda to ask to use it as their "theme song."
Beautiful and Bald Barbie

is a movement on Facebook working towards convincing Mattel to create a "Barbie" or "Barbie type doll" that is bald to support those suffering from alopecia, cancer, and trichotillomania. The goal of this "Barbie" is for all children to know that bald is beautiful and to be better equipped to deal with their own hair loss or that of a loved one. They envision some portion of the proceeds from this doll would go to pediatric cancer research.
Vi
sit Miranda Finn's Website
HERE
Miranda's YouTube Channel
HERE
"We — and our 140,000 supporters — have been working hard to raise awareness of the need for a bald Barbie doll for young girls," said Ms. Bingham who is battling an incurable form of lymphoma and whose 9-year old daughter watched her go bald from treatment.

"When a friend sent a link to the YouTube video of Miranda singing, 'Maybe I Can Change This World,' it just fit," she added. "We want to change this world and make a difference in the lives of woman and girls suffering from cancer and other diseases that cause hair loss," said Ms. Bingham.
Miranda and song co-writers, mom

Robin Finn

and music producer

Avishay Goren

, were delighted to lend support to such a worthy cause. "I was so sad to hear about kids fighting cancer and going through so much, including losing their hair," said

Miranda Finn

. "It makes me happy to think my song can make them smile."